Navigation >> Home >> Breed Community Pages >> Yorkshire Terrier >> Breeders
Yorkshire Terrier
Breeders
KEY TO BREEDER LISTING
| | |
| --- | --- |
| Puppies | Breeder has puppies for sale. (Click this button on breeder listing to view details) |
| Mature Dog | Breeder has a mature dog for sale. (Click this button on breeder listing to view details) |
| Stud Dog | Breeder has a stud dog available to approved bitches. |

We have No Puppies for Sale Notices and No Mature Dog for Sale Notices for this breed.
URMILASTAR
Contact :
Sandra Trinder
Location :
Lower Hutt Wellington, New Zealand
Ph :
0064 4 5679892
Email :
Send Email
I have been interested in the breed for six years and showing , recently I have started breeding with the help of a wonderful breeder with 40 years experience with lines from England Sweden Singapore and Australia . I am doing very well in the show ring to date and occassionally have puppies for sale.
Photo :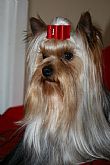 ILLUSION
Contact :
Ruth
Location :
New Plymouth, New Zealand
Ph :
06 7512663
Email :
Send Email
I have been showing Yorkshire Teriers almost thirty years. I have a small select kennels .
Photo : NZ CH Illusion High Flyer
Page 1 of 1 pages
* Disclaimer : The above breeder listing has been produced with information supplied in good faith by registered members of this site. Dogz Online Pty Ltd takes no responsibility for the accuracy of the information provided or the quality of any breeder listed. It is up to you as the prospective purchaser, to verify any claims made before entering into a transaction.

The use of the Blue Ribbon or Red Ribbon image against a listing should not be used as a symbol of a breeder's quality. The ribbon image is used purely to identify the membership level the breeder has paid for on the site.
All content copyright Dogz Online Pty Ltd © 2015
Privacy Policy | Disclaimer