Navigation >> Home >> Breed Community Pages >> Dalmatian >> Puppies for Sale
Dalmatian
Puppies for Sale
See Full breeder listing for this breed.
CRISTABO
Contact :
Carla Walsh
Location :
Lower Hutt, New Zealand
Ph :
(04)564-1611
Email :
Send Email
Web :
http://www.cristabo.co.nz
Cristabo Dalmatians have available one black spotted puppy bitch looking for her forever home. She has been BAEP hearing tested at Massey University, vaccinated, wormed every two weeks and is ready to go to her new home. She is NZKC pedigree registered and comes with 4kg's Royal Canin Junior food and her own toy and blanket.
Please contact Carla on (04)5641611 or cristabo@xtra.co.nz for more information.
Last updated 29-Jun-15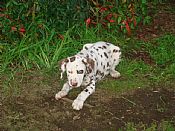 CHARIZELLE
Contact :
Giselle Fletcher
Location :
Morrinsville, New Zealand
Ph :
07 889 6611
Email :
Send Email
Web :
http://www.charizelle.com
We have one lovely liver spotted male puppy available. He has been BAER hearing tested and can hear in both hearing ears, is vaccinated and microchipped and ready for his new home. Photo is of the sire, "Quince" - Aust & NZ Ch Charizelle Captain Morgan, the dam is "CC" - Ch Charizelle Christmas Carol. Parents are hip/elbow scored, BAER bilateral and eye tested.
Enquiries welcome.
Last updated 29-Jun-15
Page 1 of 1 pages
* Disclaimer : The above puppy listing has been produced with information supplied in good faith by registered members of this site. Dogz Online Pty Ltd takes no responsibility for the accuracy of the information provided or the quality of any breeder listed. It is up to you as the prospective purchaser, to verify any claims made before entering into a transaction.

The use of the Blue Ribbon or Red Ribbon image against a listing should not be used as a symbol of a breeder's quality. The ribbon image is used purely to identify the membership level the breeder has paid for on the site.
All content copyright Dogz Online Pty Ltd © 2015
Privacy Policy | Disclaimer