Navigation >> Home >> Breed Community Pages >> Shih Tzu >> Mature Dog Notices
Shih Tzu
Mature Dog Listing
See Full breeder listing for this breed.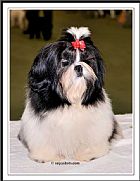 CARAGLEN
Contact :
Carolyn Pemberton
Location :
Tauranga, New Zealand
Ph :
07-5525195
Email :
Send Email
Web :
http://www.freewebs.com/caraglenshihtzu/
I have a regretful sale. Caraglen's Luv to Luv U Baby is for sale. She is clipped off, but has been shown and has done well.
I simply have too many dogs so have to find new homes for some.
She is loving and smoochy and is a very lovely girl.
She is for sale on the full register to an approved home only.
You can see her pedigree and profile on my dogzonline listing.
for any information you can contact me on Pemberton@callplus.net.nz
or my phone 021 510113 or 5525195
thanks
Last updated 29-Jun-14
Page 1 of 1 pages
* Disclaimer : The above mature dog listing has been produced with information supplied in good faith by registered members of this site. Dogz Online Pty Ltd takes no responsibility for the accuracy of the information provided or the quality of any breeder listed. It is up to you as the prospective purchaser, to verify any claims made before entering into a transaction.

The use of the Blue Ribbon or Red Ribbon image against a listing should not be used as a symbol of a breeder's quality. The ribbon image is used purely to identify the membership level the breeder has paid for on the site.
All content copyright Dogz Online Pty Ltd © 2014
Privacy Policy | Disclaimer