Navigation >> Home >> Breed Community Pages >> Siberian Husky >> Breeders
Siberian Husky
Breeders
KEY TO BREEDER LISTING
| | |
| --- | --- |
| Puppies | Breeder has puppies for sale. (Click this button on breeder listing to view details) |
| Mature Dog | Breeder has a mature dog for sale. (Click this button on breeder listing to view details) |
| Stud Dog | Breeder has a stud dog available to approved bitches. |

We have 1 Puppies for Sale Notice(s) and No Mature Dog for Sale Notices for this breed.

ALYESHKA
Contact :
Tamzin Letele & Sarah Halliday
Location :
Auckland, New Zealand
Ph :
+64274 477 5156
Email :
Send Email
Web :
http://www.alyeshka.com
Alyeshka Siberian Huskies is the partnership of Sarah Halliday & Tamzin Letele in New Zealand, and Cherie Bryson-Karam in Australia.
Alyeshka are home to some outstanding bloodlines and some of NZ's most successful Siberian Huskies, & the only Siberian in History to hold their Aust Supreme & NZ Grand Ch title - our latest Aust Supreme Ch & NZ Grand Ch Alyeshka Little Miss Perfect - currently #1 Siberian Husky in Australia.
Also members of Alyesha include 29 x BEST IN SHOW WINNER Aust Gr Ch/NZ Gr Ch Sibelk Striding Edge & Multi BIS Mal/Indo/NZ Grand Ch Lihuk Empire Strikes Bak. We are home to multiple Best in Show winners, including NZ Ch Alyeshka Lightfoot Legace.
Our prime objective is to produce quality dogs with superb temperaments, sound structure, type and overall excellence while keeping within the breed standard.
All enquiries welcome.
Photo : Aust Sup Ch/NZ Gr Ch Alyeshka Little Miss Perfect

ADREENZ
Contact :
Gayleen Speeden
Location :
Hastings, New Zealand
Ph :
068787276/0273297487
Email :
Send Email
Photo :
SUBAHKA
Contact :
Deane & Heather Wald
Location :
Ashhurst, New Zealand
Ph :
06 3269-269
Email :
Send Email
MELANDAR
Contact :
Shona Prebble
Location :
Ashburton, New Zealand
Ph :
03 3088290
Email :
Send Email
Melandar is the home of New Zealand's top winning Siberian Huskies which includes GR.CH.Melandar Mack Kenzie who represented N.Z at the Eukanuba World Challenge in America.(2009)Our record speaks for itself--we have bred and owned over 50 Champions both here and overseas. Many of these dogs are Multi Specialty and In Show winners as well as several Sled Dog Champions. At Melandar Kennels we breed for Type-Quality and Soundness from Top American bloodlines.Our motto is Strive for Excellence.
Photo :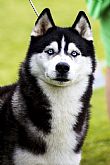 SNOWOLF
Contact :
Giselle Fletcher
Location :
Morrinsville, New Zealand
Ph :
07 889 6611
Email :
Send Email
Web :
http://www.charizelle.com
My interest in this breed started way back in 1996 when I bought my first Siberian Husky. After emigrating to NZ I got involved with the breed again and got another Siberian bred by Kiriay Kennels and I subsequently registered the Snowolf affix. I strive to breed Siberian Huskies which are true to breed type with their initial purpose in mind - that of a long distance runner carrying a light load in the snow. I'm particularly proud of my success at breed Specialty shows in both dogs and bitches and I have bred and own the only NZ Specialty Grand Champion siberian husky - DaVinci.
Photo : CH & NZ SPL GR CH Snowolf Davinci's Dream
KIWIDINOK
Contact :
Nardine & Richard Theodore
Location :
Woodville, New Zealand
Ph :
06 3764344
Email :
Send Email
Web :
http://kiwidinoksiberians.webs.com/
Kiwidinok is where our race dogs show in the show ring and our show dogs race on the trails.
Home to NZDSDC 2013 MIDNIGHT MADNESS 105KM WINNING TEAM and NAMC's 2012 Gutbuster 56km Winning team. . We are a small dual purpose kennel in rural Woodville. Our dogs are pets first and foremost and sled and show dogs.
Our passion is running the dogs in harness and although relatively new to sled dog sports we have had success with our dogs over the last 4 seasons. We race during winter and conformation show during the warmer months.
Kiwidinok is home to Chase "CH Subahka Chasin the Dream SDCH" and Mystik "CH Subahka Mystik SDCH", littermates and our first dual titled Champions. After a late start to racing, the first race of 2012 saw their sire Nash "CH Melandar National Dream SDCH" also achieve his Sled Dog Champion title. 2012 also saw Kiwidinok add another Sled Dog Champion to the team with Dusty "CH Melandar Stardust Symphony SDCH"
The next generation of Subahka/Melandar progeny have hit the trails running. Spirit " CH Kiwidinok Kindred-Spirit SDCH" gained 3 sled dog titles in her first 3 seasons of racing. Spirit is proving to be a valuable lead dog in any team she runs in. Catori "Kiwidinok Free-Spirit SD" took a bit longer to get her head around racing but she has been having a lot of fun. Nanuk "Kiwidinok Totem-Spirit SDX" is also doing well in harness.
At Kiwidinok we strongly believe in form and function.
Page 1 of 1 pages
* Disclaimer : The above breeder listing has been produced with information supplied in good faith by registered members of this site. Dogz Online Pty Ltd takes no responsibility for the accuracy of the information provided or the quality of any breeder listed. It is up to you as the prospective purchaser, to verify any claims made before entering into a transaction.

The use of the Blue Ribbon or Red Ribbon image against a listing should not be used as a symbol of a breeder's quality. The ribbon image is used purely to identify the membership level the breeder has paid for on the site.
All content copyright Dogz Online Pty Ltd © 2015
Privacy Policy | Disclaimer